Success without university: Potentials and perspectives for dropouts
Dropouts are a common phenomenon. According to statistics about 28 percent of the German students who applied for a Bachelor's degree later decide to quit in the middle of their studies. However, leaving university is not necessarily a bad decision. This article aims to point out prospects to both those who are sure that they want to drop out and for those who are still wondering which road to take. Besides addressing the common reasons why students decide to drop out, attention will be also given to the upsides and and downsides of leaving university. Finally, an interim solution will be provided.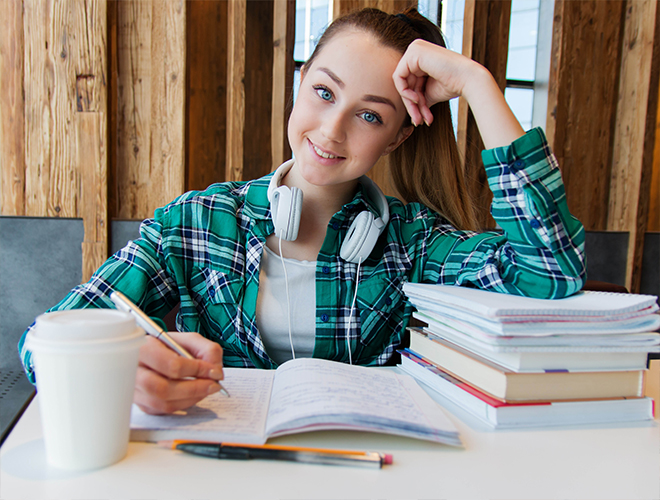 Common reasons for dropping out of university
There are a number of reasons because of which young students decide to quit university. It might be because of poor grades, the decision to look for employment, depression due to performance pressure or even boredom. In addition, many leave earlier than planned because of unexpected pregnancy or some family emergency that prevents them from continuing. What also plays a very important role is the university's environment. It has a direct influence on the mindset of students. If they do not feel comfortable in their own university, they will probably try to drop out. Moreover, every student needs freedom to be themselves and considers it one of the key factors when it comes to how much they enjoy the student life. If there is no free time for hobbies or no freedom of expression then young adults might decide to move to another higher education institution or quit entirely. Last but not least, managing the finances can also be challenging for students and their parents sometimes, especially for those who are foreigners. There are some cities where the universities are located which have a significantly high cost of living and often this is a very crucial factor. That can also lead to dropping out even if the student wants to continue. It is true that not every reason of leaving university is related to some negative experience, but there is also a chance of quitting because of bad circumstances.
However, there are still a number of opportunities that might help both those who do not want to give up entirely on their courses, and those who decide to put an end to their degree courses and start a new life chapter. Even though education plays a significant role when one is looking for a job, there are still many ways in which young people can achieve success. Following are some of the choices that students can make after dropping out, as well as a few negative aspects they should keep in mind when deciding.
Things to consider before leaving university
Despite all the positive aspects of dropping out there are some important facts students should take into account before taking any decisive step. One of them is that if the student wants to continue living in the student dormitories even after dropping out of university they will probably need to pay a council tax. Otherwise they need to inform the administration about the decision to leave in advance. Another key factor for students who are foreigners is that after quitting they may no longer be eligible for a student visa. That is why it is good for them to consult with an immigration adviser before making the final decision.
Moreover, a large percentage of dropouts tries to jump directly into the working world (mostly on a part-time basis) and usually it is because of the need to receive a salary and because they want to be more independent. If, on the other hand, one opts for internships, one should pay attention to the fact that many of the internship programs are unfortunately unpaid. This, however, does not mean that young adults do not acquire useful experience and develop a range of various skills while being an intern.
Having said that, however, quitting university earlier than planned is not a 100 percent negative experience. Following are some examples of the opportunities that are opened up by quitting university.
Volunteering helps find one's passion and prepares for one's future career
Dropouts have the opportunity to seek inspiration in many different ways and in various fields. Volunteering is one of the best choices for those who are eager to engage in some activism and who are motivated enough not to waste their time. In this way young people are able to find out what they are most passionate about and which fields they are most interested in. Moreover, it is a great warm-up for the start of their future careers. By being a volunteer one gathers much knowledge, develops useful skills and also meets many people. In a way this is similar to the environment universities offer. However, unlike the strict regulatory framework such institutions establish, volunteering in non-governmental organizations, for example, gives young adults more freedom to express themselves.
Benefitting from special employee courses
In addition, a diploma of higher education is not always required, as nowadays it is more important for many employers that the candidate has the motivation to learn. Instead of requiring high-level knowledge and a lot of experience many companies offer special trainings for new employees that aim to teach them the needed skills. In case there is a need of a certain document to be presented to the employer there are many shorter-term courses that private institutions offer. Although sometimes the information presented there is not as detailed as the universities' programs, this is still a great option to consider.
Traveling as a source of inspiration
What is more, a big advantage for dropouts is the opportunity to travel, as there is more free time even if one has a part-time job. With a small budget available, today's young people can go on a number of short trips. This could serve as a source of inspiration and many may find the answers they need about their next steps.
Preparation for failure
Another positive aspect of dropping out of university is that as time passes one becomes more prepared for failure, in other words grows a thick skin. The main reason for this is that when leaving university one faces a number of challenges and develops the strength to overcome them.
Becoming an entrepreneur
Young adults are usually full of innovative ideas and sometimes these ideas can be turned into extremely successful projects. Nowadays there are numerous youth programs that aim to support creative people and help them turn their ideas into reality. Although this is not an easy task it will serve as a great experience for every ambitious person. In fact at the end many realize that every effort was worth it. Moreover, there are plenty of books and web platforms to teach young entrepreneurs the essentials of starting a business. Sometimes a hundred pages can give someone more motivation and knowledge to develop their idea than university courses that last for years and at the end turn to be meaningless for some students. There are many examples of famous dropouts who managed to achieve success in their careers as entrepreneurs. Such are the cases with some of the best entrepreneurs in the world – Bill Gates, Steve Jobs and Mark Zuckerberg. This fact proves that even without graduating from university one can develop a range of skills and gather knowledge from many different sources in order to succeed.
Dropping out is not the only way out!
Pausing a degree program
Although there are many opportunities that students have even if they do not graduate from university, one could still think more about the possibility of finishing the degree course at some future point in their lives (in case the student is not entirely sure if they really want to quit studying). Pausing a degree program serves as a great compromise and leaves the opportunity to go back to university at a more appropriate point in time. A great benefit of this is that most universities stop charging fees when the student decides to interrupt their studies. This means that no money will be taken from individuals who are not sure if they want to complete the higher education program.
Taking up an online study course
An alternative that a number of students opt for is applying for online degree courses. This is how many avoid the need to travel to the university in order to attend lectures. This also reduces significantly the amount of money that is paid for higher education in general. It is as well beneficial for individuals who prefer to stay at home and do not enjoy the university's environment – they can study in a more relaxed atmosphere in their own room, for example. Those who apply for online degree courses study at their own pace and avoid being charged for some particular fees that others students at private universities pay to attend lectures.
Switching courses or university
Last but not least many students decide to switch courses in the middle of their studies and there is nothing wrong with that. Instead of dropping out one can choose a better study program. However, in cases when young people do not like the university they attend it is also possible to apply for another one in a different city. The change of environment and living conditions can influence to a great extent the student's mindset.
Bottom line
The most important thing when dropping out is to think carefully about all the following options and plan the next steps. It could be traveling to find new inspiration, applying for a part-time job or any of the other previously mentioned opportunities. What matters is how ambitious the student is and if they are ready to face the challenges of the adult life. After all dropping out of university is not the end of the world, as life offers various opportunities enough for everyone to take advantage of. Besides, help and consultation is offered for those who are confused and need a clear vision for their future. Before dropping out one can turn to the university's support staff and central support services, or even use online guides. This will help them decide what is best for them and avoid facing too many difficulties. Professional coaches are available to answer students' questions and to guide them when it comes to deciding which road to take. Moreover, it is always good to ask students who have already dropped out of university for advice and to hear their opinion on the topic. Those who have already experienced leaving the higher education institution will shed light on the future of a dropout might be. They will serve as an example and one can see how they are doing in the present (if they have a job, if they are successful and so on). Ultimately, of course, it is up to every person to decide how to use their talents and knowledge.
BACK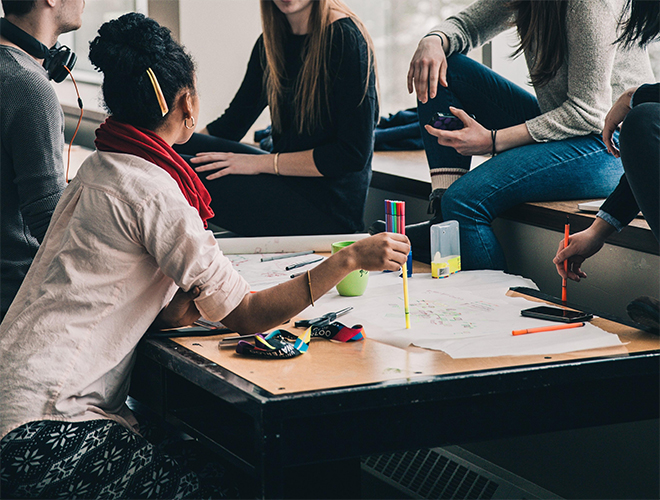 Excellent location for education: Studying is becoming more and more popular in Germany
Choosing Germany as a study location has become very common among international students these days. The Federal Republic is a great place to live and study, as it offers young people study opportunities at some of the world's best universities in well-developed cities. No tuition fees and high quality of education are some of the reasons why international students opt for Germany. There is a wide range of options, as German universities offer numerous courses in diverse fields. From innovative technologies to arts and culture – there is something for everyone. Without a doubt, the country gives foreign students the opportunity to have an experience of a lifetime. Nevertheless, one should know that previous planning and preparation are of significant importance, as there are some things that need to be taken into account in advance. This includes the decision as to which course fits best in terms of one's talents, interests and inclinations; the cost of living in the chosen city; how to receive a student visa and more. The purpose of the present article is to present the advantages of higher education institutions in the Federal Republic of Germany, as well as to provide prospective international as well as domestic students seeking to receive higher education in Germany with information on important aspects such as student fees, living costs, visa and health insurance. Further consideration is given to Germany's top higher education institutions and university cities. Finally, suggestions are made on how students can spend their free time and what parts of the country they should visit.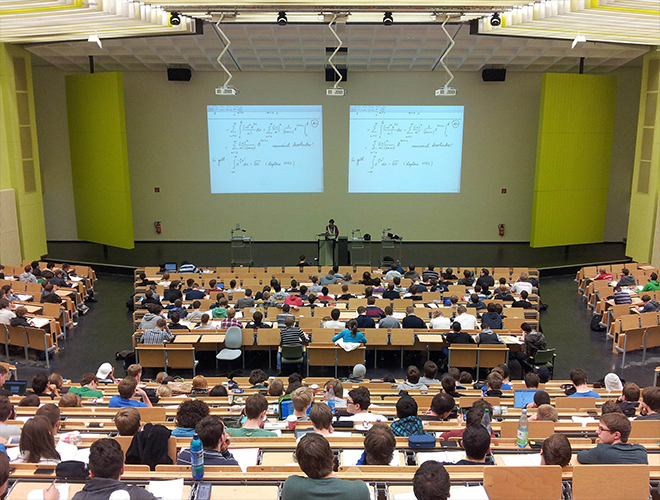 Inflation at German universities: Too many students nowadays?
Germany has proven to be one of the most attractive destinations for students in Europe. High standards, quality of education and attention to detail are just some of the traits the German higher education system prides itself on. But in recent years, a new problem has risen. With free tuition, easily accessible student loans and a rising popularity of German universities, the academic scene in the country may soon be full with more students than it can handle. Universities are using some strategies to cope with the congestion in lecture halls, but it is questionable whether they are enough. The aim of this article is to discuss the current situation of overcrowding at German higher education institutions by taking a closer look at both the factors contributing to that problem and some of the key strategies universities in Germany use to cope with it.